15 December 2017
How Much Does it Cost to Develop a Social Media App like Facebook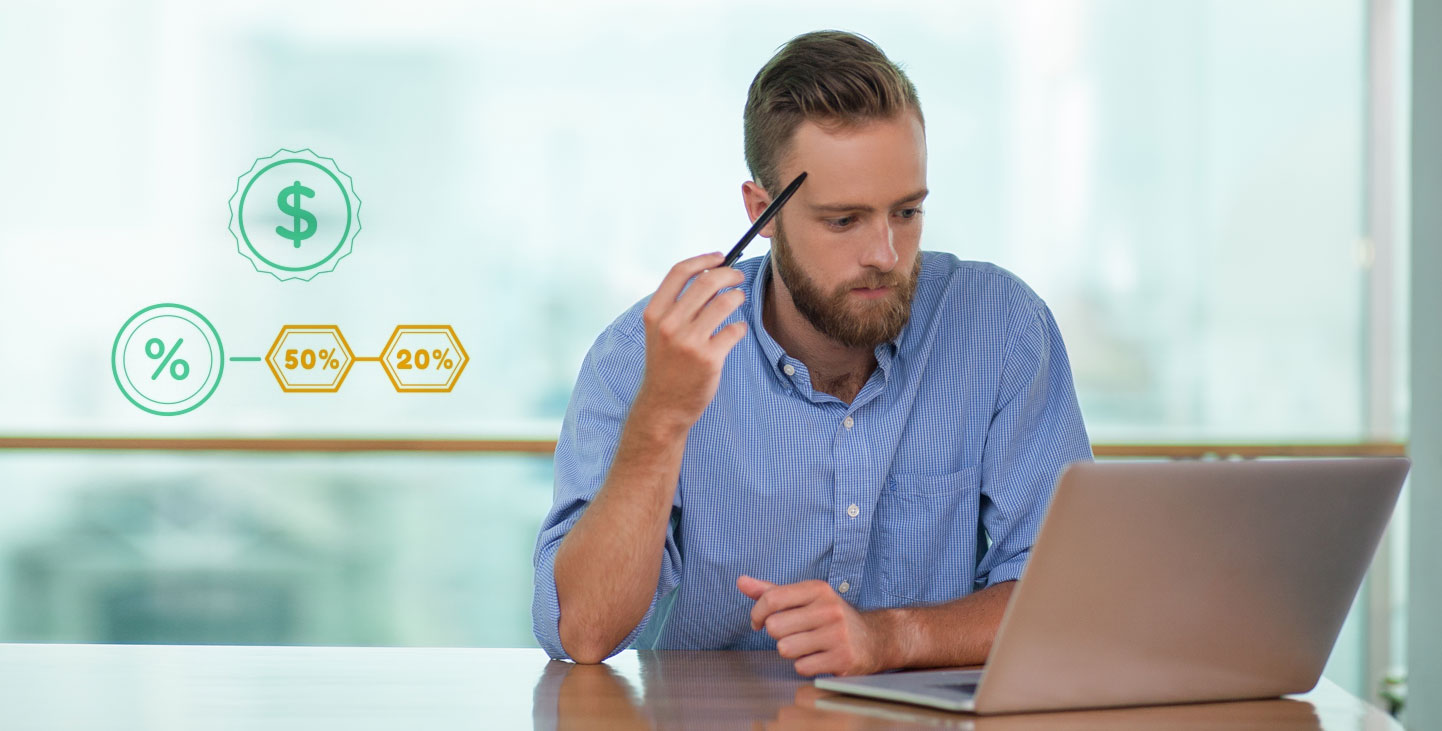 Posted by Root Info Solutions
Are you looking forward to becoming the next Mark Zuckerberg? Of course, it may sound like a dream to many, but certainly, it?s not something impossible. Probably, things have gone easier today than what it had been at the time of the legendary entrepreneur.  Here is a cost-analysis based on the features available with Facebook to help you understand how much you need to invest in your business venture.
Social Media App Development Cost
Mobile app development is directly associated with the average hourly rate or the salary charged by a developer.  However, it?s not practically feasible for a single social media app developer to perform the job individually. Often product development is a team work, as none can be expert in doing all the tasks or creating all the features of an app. 
Cost of Developing a Social Media App Like Facebook
A. Number of HOURS required creating key features
| Registration (80-90 ) | Access Control (100-120) | App Interaction (480-500) | Basic Features (450-500) |
| --- | --- | --- | --- |
| Name, phone Number | Using email ID | Universal linking | Newsfeed/activity feed |
| Name & email ID | Using phone number | Social Sharing | User profile |
| 3rd APIs |   | Messaging/chat | Refer a friend |
| Name, date of birth, email ID |   | Video calling | Help center |
|   |   |   | Help forum |
| Advanced Features (200-220) | External Features (180-200 | Admin Panel (300-330) |
| --- | --- | --- |
| Geolocation | OTP reading | User data control |
| Data sync | In-app calling | Usage analytics |
| In-app camera | Secure data travel | Crash report |
| Push notification | Connection to third-party API | Reporting |
| Image filtering |   |   |
Summing up the hours spent creating different features, we get 1790 hours (based on the minimum lower limit of the range) and 1960 hours respectively (based on the minimum higher limit of the range). So, it will take almost 10 to 12 months to build a social media app. A developer might take as long as 450 hours to create features mentioned under App Interaction. Wondering what extends the time? Well, the secret lies in the freedom of customization. Imagine a Facebook post on your feed. What customization options you get? You get a world of information and capabilities: who and when posted it, the engagement it brought. If you like the post, you can choose to save it and/or turn on your notifications for this post. If you don't like what you see, you can choose to hide the post and even unfollow whoever posted it and report it to Facebook.  So one news feed is a combination of a multitude of tasks. Similar intricacies are involved with other features. Often, a combination of functionalities combines together to provide one user experience. 
Social Media App Development Cost for iOS 
A. Based on Average Hourly Rate of an iOS Developer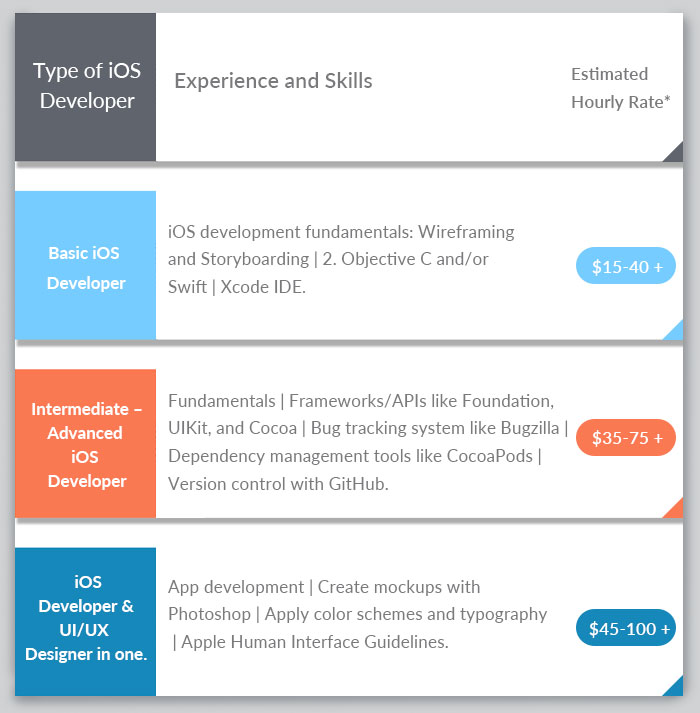 Obviously, the rate would vary based on the expertise and experience of the app developer. 
Minimum Cost: 1, 790 ? $15=$26, 850 
Maximum Cost: 1, 960 ? $100=$1, 96, 000
B. Based on Average Salary of an iOS Developer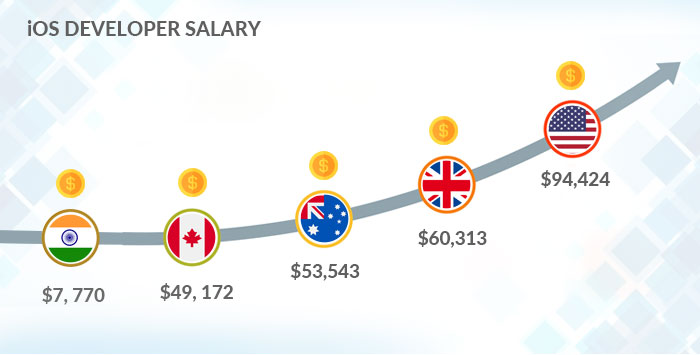 Minimum Cost: $647.5 (per/month salary)?10 (duration in month)=$6475
Maximum Cost: $94, 424
Note: The minimum cost will increase further, as we haven't included the UI-UX design cost. It depends upon the number of screens you want to have. Based on the features listed above, there can be seven to eight screens, and for that, you need to shell out an additional budget. So, how much time is required for that? Well, as per Root Info Solutions, it will take around 40 to 50 hours. The average hourly rate of a UI-UX designer in emerging economies like India is between $9 and $85 (Upwork). So the minimum and maximum cost the app design in such an economy would be $360 and $4250. 
Must read: How Much Does it Cost to Develop a Chatbot Application
Social Media App Development Cost for Android 
A. Based on Average Hourly Rate of an Android Developer
India: $24
Australia: $25
Germany: $30
Canda: $39
USA: $60
App Development Cost = Development Time (hours) ? Cost (per hour)
Minimum = 1, 790 ?24
                 = 42, 960
Maximum = 1, 960 ? 60
                  = 117, 600
B. Based on Average Salary of an Android Developer
Average Monthly Salary of an Android Developer 
India: $402
Australia: $4, 990
Germany: $4, 653
Canda: $4, 050
USA: $6, 598
Social Media App Development Cost = Development Time (month) ? Developer Salary
Minimum  = $4, 020
Maximum = $79, 176
Note: Average hourly rate is obtained from Upwork and average monthly salary from payscale
Hope you found the information useful. If you have a social media app development idea, request a quote to know more.
Disclaimer: The content published here is just for marketing purpose to give website users a rough idea on the technology budget, it doesn?t claim that Root Info Solutions copies, clones, modifies, alters any existing codes, or performs a reverse-engineering to create such an app. We create an app from scratch based on the idea and requirements of our clients.